Staying connected is important.  Today's best software technologies are cloud-based, that is, they are web applications.  The efficiency and productivity of your business can depend on internet connectivity.  One of the best ways to ensure coverage is by using hotspots…
What is a hotspot?
A hotspot is a device that allows you to take the signal from a cellular tower or a satellite and use it to provide internet access to your devices.
Hotspot from your phone
Most modern smartphones have the hardware which allows them to act as a mobile hotspot. In order to access the hotspot built into your phone you often have to add it to your plan from your cellular provider. Some companies like T-Mobile do not charge any extra for adding Mobile Hotspot to your plan.
What Carrier Should I choose?
Every state has different coverage from different providers. There are two factors that are important when it comes to choosing the correct provider for your hotspot. First, is your area of business covered? Will you receive any signal from your carrier when you travel to a new worksite? Second, what type of coverage does that provider have in that area? Wavebid can run successfully off of a 3G connection and anything below that will be a risk for stability.
3G connection is known to be anything that reaches at least 200kbit/s(0.2 mbits/s). Below you will find the national coverage maps for each of the main 4 carriers and links to their coverage tool so you can search for the exact areas where you will be running your sales.
A great place to test your internet speeds can be found here: http://www.speedtest.net/ . This site can help you to understand the reliability and performance of your hotspot network. If you want to test it out on your mobile devices, you can download the free app from your app store.
Verizon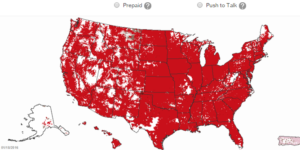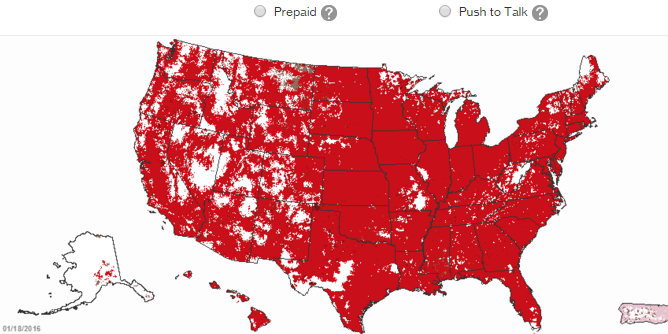 Check your local verizon coverage and speed here: https://vzwmap.verizonwireless.com/dotcom/coveragelocator/
AT&T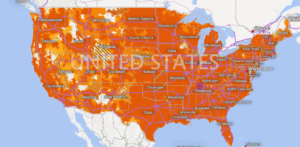 Check your local AT&T coverage here: https://www.att.com/maps/wireless-coverage.html
T-Mobile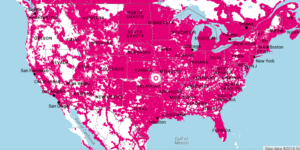 Check your local T-Mobile coverage here: http://www.t-mobile.com/coverage.html
To check your local Sprint coverage click here: https://coverage.sprint.com/IMPACT.jsp?
Note
If are interested in a carrier that is not on this list you can just ask them which carrier's network they use. For example Republic Wireless uses Sprint towers, and would therefore have the same coverage as Sprint.
If you are still curious about which cellular provider will give you the best hotspot results in your area, go here http://opensignal.com/ to view coverage comparison data from real users.
This can help you identify the provider that will have the best coverage in your area.
Should I use my Phone or a Standalone Hotspot to run my Auction?
Even though your cell phone and your standalone hotspot may be running off of the same cellular network, often times you will have much greater success when using a standalone device. When you start attaching multiple devices to a smartphone hotspot you can start to experience inconsistency in performance. I would recommend using your phone for a hotspot if you are just going to connect one device to it, for example the clerking computer that is a distance away from the checkin/checkout station.
Can I get enough coverage to run my sale through the internet?
The answer is yes! Most of the Country is covered by one provider or another. If you find yourself in an area for which you are not covered by a certain provider and you have an unlocked hotspot device, you can just pay for service from another carrier for one month and be completely covered.
What should be my backup plan?
A great backup plan is always to have Wavebid Offline installed on your computer and having your employees bring their cell phones and chargers to the sale in case something happens you can always have their phone hotspots as a backup. Fortunately for the sales that are in the small percentage of the country that don't have internet Wavebid has a fully functional offline version.
What is the benefit of running my auction through the internet?
The benefit of cloud-based auction software comes down to flexibility, data security, and support. When you need help during your auction, being connected to the internet means that when something goes wrong it is as if the Wavebid support staff is right there with you. We can instantly fix any issue that you are having as well as remove hardware failure which may be a threat to your sale. When you are using a cloud-based software and your hard drive gets corrupted, you can simply grab anybodies Ipad or laptop and continue right where you left off. The internet is an advantage and can mean the difference in the outcome of your sale.